Shimano Wireless Shifting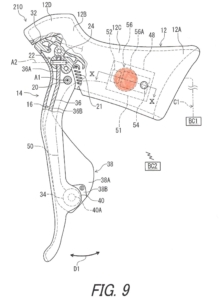 One of the biggest questions on the minds of cycling's technology-minded types: will the next generation of Dura Ace include Shimano wireless electronic shifting?
Shimano was of course the first major player to market with electronic shifting (aside from Mavic's early short-lived attempts), when they introduced Di2 in 2009, using wires to connect shifters, derailleurs, and batteries together. Campagnolo soon followed in 2011 with similar wired shifting systems.
Then SRAM brought out eTap in 2015, which uses wireless transmission from shifters to derailleurs, with each component having its own integrated removable battery. The SRAM system is sleek and simple, with no wires to route through a frame or get accidentally smashed. Wireless is appealing, no doubt – exactly no one misses the sensor wires once needed by powermeters from SRM, Powertap, and others.
As always, Shimano is tight-lipped about any future products. But the company's patent applications give insight into what has their attention – consider that Shimano has filed 35 US patent applications so far in 2020 that include both wireless communication and derailleurs.  That's in addition to many more in previous years. And electronics are definitely on Shimano's radar screen.
I've combed through a number of Shimano's recent patents and patent applications to look at what could be coming. The caveat is that in virtually all of their patent applications, Shimano smokescreens us with multiple embodiments of a particular invention — more on that below.
Wireless shifters, US patent application 20200346710A1
What's Shown:
Brake/shift levers with wireless transmitters that are powered by coin cell batteries in each lever
Two different battery locations are described – either in the main body of the lever alongside the transmitter, or at the end of the inner shift paddle (I've added orange highlights to the patent drawings for the batteries).
Option for a "power generating unit" that uses the motion of the inner shift paddle paired with a piezo-electric component to generate electrical juice – meaning no shifter batteries required
Levers for both drop bars and bullhorn bars, each with both cable and hydraulic options
But … alternate embodiments describe a remote battery that's not located on the lever
Wireless derailleurs, US patent US10766569B2
What's Shown:
Front and rear derailleurs, each with its own wireless receiver
Each derailleur has its own on-board battery (not labeled in the patent drawings)
But … alternate embodiments describe a single frame-mounted battery and that may power both derailleurs
12 speed, US patent application 20200346713A1
What's Shown:
Lots of front and rear sprocket assemblies, with up to 12 rear cogs
The smallest cog at 10 teeth, largest 48 teeth
But … wiggle language typical in patents says the system claimed has at least nine rear cogs
Shimano's patent applications are skillfully written in a somewhat opaque style – inventive elements are described and claimed as required by patent laws while revealing as little as possible about overall product configuration. Woven-in are various embodiments that help keep competitors, journalists, and inquisitive consumers from knowing which versions might make it to production. Keep in mind as well that Shimano files more patents than any other company in the bicycle industry, and many of the inventions described never become products.
There's plenty of info not covered. Wireless protocols – such ANT or Bluetooth LE – are not discussed in any detail, though encryption is mentioned. And the big backwards compatibility question: Will 12 cogs, including a 10 tooth small, fit on to existing freehubs? Or, will Dura Ace switch to the 12 speed micro-spline design of XTR?
So what is one to make of all of this uncertainty? It seems likely that Dura Ace 12 speed is coming – patents aside, SRAM and Campagnolo are already there of course.  Some sort of Di2 wireless-ness for transmitting shift commands also seems like a good bet, but the number of batteries and their locations is a significant question mark … along with the matter of how obsolete your existing wheels/freehub might be.
A version of this article first appeared on CyclingTips.com