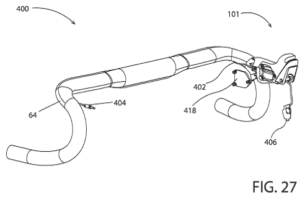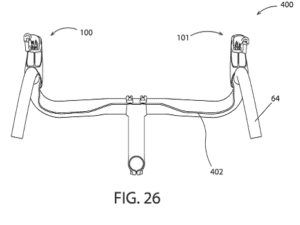 Technology for new wireless shifting from SRAM is in the works, according to patent applications on file.
Existing electronic bicycle shifting from SRAM is configured with a switch and transmitter in both right and left levers. There are various programing options possible, such as the right lever controlling rear derailleur upshifts, and the left lever rear derailleur downshifts. Pressing both simultaneously enacts a front derailleur shift, if applicable.
There may be new wireless shifting from SRAM coming – which is widely expected, as their components have reached an age where the new generation is due, if they want to match the pace of Shimano's offerings.
The new wireless shifting from SRAM actually adds a wire – oddly enough. The patent application shows the left lever wired (under handlebar tape, or through the bars) to the right lever. Meaning, the left lever contains little more than a switch to enact a shift, with no battery or wireless transmitter needed.
Shift information from the left lever travels to the right lever over the wire. The right lever contains a processor, battery, and transmitter – the latter to signal the derailleur (or derailleurs) to enact a shift.
While new features are always the juicy, attention-grabbing part of next-generation products, cost also lurks as a notable point. Especially given the rise in high-end bicycles and componentry, which has greatly exceeded inflation rates over the last decade.
For a user, there's little difference to SRAM's current wireless etap shifting , other than having one less lever battery to mind. But there is potentially significant manufacturing cost reduction, as the left lever is far less complex – no transmitter, battery, or processor needed. Just a switch. This could increase profit margins for SRAM, whether their parts are sold OE (that is, direct to bicycle companies to use on new bike) or aftermarket. Or it could reduce prices, giving SRAM a price advantage over Shimano. Or both.
Is a single sided transmitter the new wireless shifting from SRAM? Stay tuned …