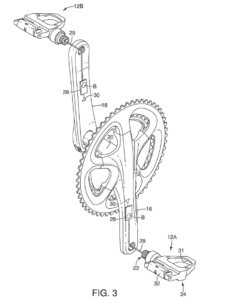 The industry is currently buzzing with product news and speculation on the powermeter front – pedals in particular. Much of the talk stems from recent mergers and acquisitions, including those already selling wattage measurement but are looking to expand offerings.
Power measuring pedals are burdened with plenty of challenging constraints. Both pedals need to house the complicated and delicate instrumentation needed to measure force and speed, along with a wireless transmitter and battery.  Use of a single force-measuring pedal and doubling its wattage, in conjunction with a "dummy" second pedal, to reduce costs is an option, but having two instrumented pedal is seen as preferable.
Electronics aside, all the usual matters of pedal performance like bearing and platform durability, weight, and retention system remain with powermeter pedals. While once largely the domain of road racers, the rise of gravel has expanded the market for off-road pedals, many of which are based around Shimano's SPD system.
Shimano SPD Pedals
Despite Shimano's dominance in the road and off-road pedal markets, the company has not as yet released a power measuring pedal to complement its DuraAce powermeter crankset. However, Shimano has a number of patents and patent applications on power-measuring pedals, with filing dates going all way back in 2014. Technology in these show use of piezoelectric elements on the pedal body, as well as pedal spindles with strain gauges, as well as many other features. Shimano has been busy developing other electronic components as well.
The Shimano patent drawings reviewed are illustrated with road-style pedals. However, it's the claims of a patent, not the drawings,  that define a (utility) patent's intellectual property. Thus, the inventive elements  a patent protects are not necessarily limited to the style (road v offroad)of pedal shown in the patent drawings. Meaning, Shimano could just as easily have road or off-road powermeter pedals in the pipeline – if any at all.
In off-road / SPD style pedals, it's not Shimano, but the company that's the originator of the powermeter, SRM, who currently has a product in the marketplace. Or should soon – at print time, SRM's website showed the X-Power pedals as not-in-stock, but available for pre-order.  Samples have been reviewed by consumer websites, suggesting they're more than promiseware. MSRP is listed at $1199 for dual pedal measurement, or $899 for one-sided.
Garmin Powermeter Pedals
Garmin's Vectors have been the pioneering product in pedal powermeters. Its roots go back to a start-up called MetriGear, which showed a prototype powermeter at Interbike in 2009, based around Speedplay pedals. MetriGear was acquired by Garmin a year later. While presumably using some of the technology and intellectual property developed by MetriGear, Garmin switched the design to a Look road style pedal body, for Keo style cleats. It took a further three years of R&D before Garmin finally released the pedals in Aug of 2013. Several subsequent generations of Garmin's pedals have followed, with current MSRP of $999.
Wahoo Speedplay Powermeter Pedals
Speedplay remains a popular pedal, and the company was acquired by Wahoo Fitness in late 2019. Wahoo's products focus has been on GPS cycling computers, heart rate monitors, multipsort watches, and smart trainers. At the time of the acquisition, Wahoo founder told BRAIN: "We never talk about upcoming products." But he made clear that if Wahoo did offer a power meter, it would be pedal-based. "The power meter should be in the pedals. … It gives you the flexibility to do what you want with the bike. There are a lot of limitations that come from putting the power meter anywhere else."
Wahoo has mothballed many Speedplay pedals, including  all off-road, platform, and specialty road models. Between the company narrowing the scope of its pedal business, and Wahoo's focus on electronics for performance monitoring , it's widely believed  that they'll be releasing a Speedplay powermeter pedal  in the future. No related patent filings have been published, though patent applications generally take 18 months from their filing date to become public.
The other current offering in powermeter pedals comes from Italian company Assioma Favero, which use Look Keo compatible road cleats. MSRP for these road style pedals is $694 for dual side measurement, and $444 for one-sided, considerably undercutting Garmin's pricing.  A story on CyclingTips.com reported leaked information that  Assioma Favero has developed a powermeter pedal axle assembly that works with a Shimano SPD-SL pedal body. By selling an axle assembly and letting users install their own SPD-SL body, the company would seem to seem to be looking to stay away from Shimano SPD-SL patents. Currently, there are no pedal powermeter options for use with that popular Shimano road pedal system.
SRAM Time Powermeter Pedals
Finally, in February, SRAM discontinued the power measuring pedals and hubs  from their Powertap brand , which SRAM acquired from Saris in April 2019. Shortly thereafter, SRAM announced their acquisition of Time's pedal business.  SRAM also owns the Quarq brand of powermeters, which are solely crankset/spider based. This has led to rampant speculation that SRAM will be mixing three ingredients together – Time's pedal platform, Powertap's pedal-based power technology, and Quarq's engineering capabilities – to produce a Time-style powermeter pedal.  Even if the Time acquisition had been in the pipeline a while, a new product seems unlikely to be imminent.
Rumblings about other pedal-based powermeters have also been heard, meaning this market niche may be changing a great deal over the next 12 to 24 months.
This article first appeared in Bicycle Retailer and Industry News