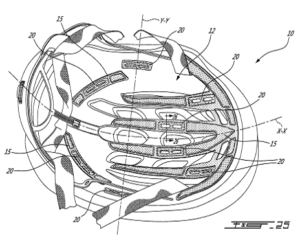 In the last decade, helmet companies patent MIPS alternatives, which has has seen a surge in new technology for bicycle helmets. Much of the development has focused on systems that address rotational-type forces, which may be a factor with head injuries in some bicycle crashes. Those who work showroom floors in bike shops likely know this helmet story well. 
MIPS
The pioneer and big player with rotational energy management technology for  helmets is Mips AB, of Stockholm, Sweden. Mips is both the name of the publicly-traded company and the product, an abbreviation for multiple impact protection system. The company has at least 22 US patents issued, with dozens of additional patent applications filed – including 10 since the beginning of 2021. Mips also owns an extensive portfolio of patents outside of the US, from Europe to Japan.
Mips does not make helmets, but rather licenses their technology to existing helmet companies to build into finished consumer products. Mips's website says they have more than 143 partner brands – though not all of those are for bicycles, as the company also works with other applications such as equestrian, motorcycles, climbing, snowsports, etc. The list of bicycle-specific companies that incorporate Mips into at least some models includes many of the industry's prominent names, such as Bell, Giro, Cannondale, Specialized, Smith, Fox, Trek, Scott, Liv, Giant, Limar, Raleigh, Bontrager, Oakley, Garneau, POC, and others (according to the MIPS website).
Intellectual Property Rights
In a licensing relationship, one company typically pays royalties to a second company, for use of the second company's intellectual property such as patents, trademarks, or copyrights. Royalties are often paid as a fixed amount per unit sold, or a percentage of the first company's selling price of a product.
Trademarks protect a word (or words), symbol, or design that identifies goods or services. For example: anyone can start selling bicycles, but only Bianchi, Fuji, etc. can sell bikes using those names. For trademarks, many in the bicycle industry will recognize the black "Mips" lettering in a yellow circle as the sticker that marks helmets so-equipped. In this case, trademark value may rest in "ingredient branding" – the idea that consumers recognize the "Mips" name and logo, and seek it out, regardless of helmet brand. Short of market studies into consumer perceptions, that value is difficult to quantify.
Patents are a more technical matter, with a patent holder having rights to exclude others from making, using, or selling what's covered by an issued patent's claims. A company such as Mips might use a strategy of patenting as many different approaches to rotational energy management as possible. They could then own rights to designs that they may not even want to pursue into viable finished products, thereby preventing helmet companies from developing their own in-house rotational systems. Buying competitors is also an option: In 2019, Mips acquired Canadian company Fluid Inside, along with its patents.
New Patents

Avoiding a specific name or logo may be all that's required to avoid another's trademark. But patents can block specific designs or methods, and be much more difficult to sidestep. Therein lays the issue for helmet companies: license from Mips and pay ongoing fees, or create your own technology that designs-around existing patents (or skip it all-together – see below)? Its motivation for helmet companies to patent MIPS alternatives. With MIPS having studied head injuries and helmets extensively, companies paying licensing fees to them may not be a bad solution – it's an outsourcing of R&D, with Mips also offering helmet makers tools such as Virtual Test Lab.
But royalty payments live as an ongoing cost paid to another company for every unit sold. Which surely is why numerous helmet companies have created their own rotational energy management designs – with mixed results.
Helmet maker POC has had a litigious past with Mips. After being an early adopter of MIPS, POC developed and patented its own rotational technology, with Mips then suing POC for patent infringement. In April 2018 the two sides settled, before POC announced a year later that it was phasing out its competing SPIN system in favor of Mips.
Specialized is also active on the topic, receiving a patent in April 2022, titled "Helmet Pad With Slip Layers". The invention uses a three-layer pad that provides rotational movement. Additional patents from Specialized also address rotational movement, including "Helmet With Foam Layer Having an Array of Holes", issued in May of 2022. Despite the R&D and patent efforts for their own designs, currently a wide array of Specialized helmets use Mips.
Quebec-based Louis Garneau was recently issued a Canadian patent titled: "Helmet with Slippage Pads", with a US patent still pending. Garneau's approach, named ROTEXX, incorporates helmet pads that have a bristled surface, with the bristles allowing the helmet to "slip" relative to a rider's head in a crash. In April 2022, the company announced that for this year, all Garneau helmets will include ROTEXX technology.
Trek is taking charting a different path with its Bontrager helmets. Some models include Mips, while others are based around Wavecel, which Trek is the exclusive licensee of for bicycle helmets. The technology used in Wavecel was patented by Apex Biomedical Company of Wilsonville, OR.
Numerous other approaches to rotational energy management exist as well, such as those from HEXR, Kali, Leatt, and others — all different approaches for helmet companies to patent MIPS alternatives.
Or Skip MIPS
There remains another option: forgo rotational energy management technology. Current Consumer Product Safety Commission helmet regulations do not involve tests for rotational energy management, nor are there any related requirements for it. Some studies have shown that rotational energy management technology reduces the chance of some types of head injuries, while other studies have shown negligible benefits. The Bicycle Helmet Safety Institute (BHSI),  a volunteer-run organization, offers the conclusion: "Knowledge of rotational injury management is evolving. No consensus standards have been adopted yet for the effectiveness of any helmet technology to mitigate rotation. Some technologies may help prevent injury in some impacts. Based on lab data we believe that rounder, smoother helmets that slide well on pavement are essential."
But in the legal climate of the US, there may be other risks – regulations aside. As BRAIN reported  in July 2019, the Greg Coleman law firm of Knoxville, TN, advertised for consumers to join a possible class action lawsuit against helmet companies that did not include the latest helmet technology such as Mips and Wavecel. The lawfirm did not respond to a request for a status update, and no further information has been published on the matter. On the other hand, a different lawsuit alleges that the benefits of Wavecel are overstated.
Where does this leave rotational energy management technology for helmets? As the BHSI says, knowledge in this area is evolving. Similarly, the approach that helmet makers take, including the value of the associated intellectual property, is also in a state of constant flux.
This article first appeared in Bicycle Retailer and Industry News