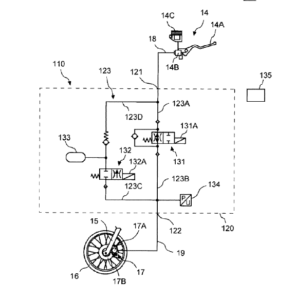 Bicycle industry patents in 2021 were issued to major manufacturers doing business in the US.  Component companies – rather than those who sell complete bicycles – led the way, with parts suppliers having the greatest incentive to stake intellectual property claims. Shifting, braking, suspension, electric assist, etc. are where the big changes in bicycle technology come from, and where a relatively small number of established suppliers compete for market share.  Here's an overview of US patents issued in 2021 (through 12/15/2021), to some prominent industry companies.
Shimano: 137 (also 22 for fishing technology)
Shimano isn't just the leading component supplier, they also own a massive patent portfolio that's incomparable to others in the bicycle world. Over the last 20 years, the company has accrued over 2400 US patents (including fishing) – and they hold thousands of additional patents in other countries.  A snapshot of Shimano's 2021 patents shows: 50 including hydraulics, and a full 84 including electronics – technology the company is well-known for. But there's also a boatload of suspension patents, ebike patents, and numerous patents for integrated systems that allow sensored components to communicate with each other. More than other company, Shimano protects intellectual property for many developments that never make it to production — meaning the company's patent portfolio is a peek at their R&D efforts, but not necessarily their future product offerings.
SRAM (and related-brands): 42
The company's brands include SRAM, Zipp, Avid, Truvative, Rockshox, and Quarq – with current patents filed under the SRAM corporate name, regardless of what label sells the related technology.  Also, in Feb 2021, SRAM acquired Time and its related pedal patents. For 2021, most of SRAMS's 42 patents are focused on drivetrains: derailleurs, shifters, cassettes, and chains.  One unexpected invention area: trainers. SRAM claims a design with a freehub integrated to a rear wheel stand, with optional instrumentation for power measurement.
Campagnolo: 12
It was a thin year for Campy with US patents – they've averaged more 30 US patents per year over the last two decades. Of note: two of the 12 patents  focus on cable-actuated shifting – one covers the gear mechanism for a mechanical Ergopower type shifter, the other claims specifics of a cable-actuated front derailleur. Much has been made about Shimano and SRAM phasing-out cable shifting (for higher-end components), but Campy is still at it – perhaps looking to fill the void. Still, one patent is directed towards a magnetic chain sensor, as part of an electronic shifting system. Five patents are directed towards wheels or hubs – Campagnolo products not widely seen in the US.
Giant: 9
The company that's both a major brand and OE bike builder may have only nine US patents for 2021 but those hit a wide range of technologies.  Consider: a cycling shoe, a tire installation tool, biometric anti-theft components, two covering a crank-based powermeter, a hydraulic brake adjuster  – and less surprisingly, two for composite frame technology.
Trek: 5
For 2021 the company received three utility patents and two design patents – the latter protect the ornamental appearance of an invention, rather than its structure or function. One Trek utility patent is backend technology that few will ever be aware of: a valve system that's part of a testing machine for fatigue and failure of frames. At the other end of the spectrum is a design patent that covers the look of the front triangle of a full-suspension  ebike frame.
Specialized: 23
Count 17 utility patents and 6 design patents for Specialized in 2021. Among the utility patents, eight are directed to ebike technology : wire routing, torque sensing, battery mounting, and more. Four design patents protect the appearance of frames – evidence of how much Specialized values the look of its products, and perhaps of how little intellectual property is left available to cover frame structure and manufacturing.
Bosch: Approximately 50 bicycle related
Think Shimano chases patents hard? Bosch had over 900 issued in the US for 2021, but how many of those are directed to bicycles gets hard to count. Some patents are specific to ebikes only, while others cover technology like motors , batteries, and related systems that  work in ebikes and other applications.  In addition to the company's well-known ebike technology, Bosch is working hard on collision-avoidance systems that allow motor vehicles to detect bicycles and pedestrians.  Bosch's patent portfolio related to bikes underscores how much of a major player it has become the bicycle industry, even if it's not a brand that jumps out in dealer showrooms.
Yamaha: Approximately 8 bicycle related
Yamaha's patent issuances numbered in the hundreds for the year, with eight of those including bicycle in the description. Ebikes are very much in the company's interest, both for drive systems as well as frame design – the latter reflecting the company's experience in motorcycles. One patent claims a method for determining pedal assist level, based on a pedaling force sensor.
Canyon: 5
The German-based , consumer-direct brand's  five patents for the year confirm the company's interest in proprietary designs. Two of the patents are directed to handlebar and stem systems – where the company is well-known for having unique configurations. Another claims a storage recess built into a frame, while another claims a bearing for a rear swing arm.
Fox: 31
As a suspension company in both bicycles and motorsports, it can be hard to parse which patents are applicable to both disciplines. At least 24 of Fox's  31 patents include bicycle in the description, with most of those related to suspension. But others are not, such as dropper posts, front sprockets, and crank arms. The there's a wildcard: "Methods and Apparatus for Virtual Competition" – with embodiments including processing sensor information (speed, location, power, etc) for mountain bike racing and ski racing.