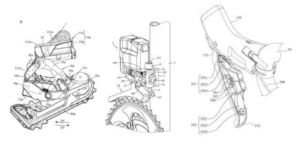 Recently published US patent applications show electronic bicycle shifting from Tektro – a brand known mainly for its bicycle brakes. The Taiwan-based company has submitted over 65 US patent applications in the last 10 years, and least two dozen of the most recent filings relate to derailleurs and shifting. Could Tektro be poised to become a major new drivetrain supplier, as they have with brakes?
The company has already been quietly heading that way. Tektro recently began selling a cable-actuated 9-speed drivetrain called E-DRIVE 9, consisting of a rear derailleur, shifter, and 11-46 tooth cassette. It's an OE-only product, targeting entry-level e-bikes, and was designed in cooperation with Germany's Conway Bikes. Tektro has several patent applications and recently issued patents with descriptions and claims of mechanical rear derailleurs, as well as cable-type shift levers  – though the latter are seemingly for flat-bars only, not drop bars. No filings from Tektro were found relating to cable-actuated front derailleurs – either because they aren't yet published, or because the company is embracing 1x set-ups for mechanical shifting.
Other patent applications suggest the company has been working on much more than cable style shifting. Legal documents describe what appears to be a complete array of electronic shifting technology, including front and rear derailleurs with integrated batteries, shift levers with wireless transmitters, as well as related electronic control systems.  Tektro's earliest patent application that concerns electronic shifting was filed back in March 2015 – meaning the company has been working on the technology for some time now. But there's been a blizzard of recent activity, including 13 applications published already in 2022, compared to 8 total in 2021 (patent applications typically publish 18 months after they're filed). Eight of the applications published in 2022 relate to electronic shifting, with the remaining four pertaining to brake technology.
I've combed through the company's patent documents to give snapshot of some of the intellectual property the company is looking to protect related to electronic shifting. Please keep in mind that patent drawings simply need to support the description and claims in a patent application, and may bear little resemblance to what a finished product looks like. Tektro's US office declined to comment on the company's patent filings, as is common practice across the industry.
Electronic Bicycle Shifting From Tektro: Rear Derailleur
A number of patent applications describe and claim various elements of electronic bicycle shifting from Tektro, including rear derailleurs. One includes a battery assembly (10a in the drawing) mounted to the upper part of the derailleur body.  At least one patent application describes a system with a removable battery casing –  as in SRAM's etap system.  A clutch mechanism is also described. Wireless capability doesn't seem to be clearly specified in the descriptions of the rear derailleurs, but other patent applications (see below) are clear on wireless protocols from shifters to both front and rear derailleurs.
Electronic Bicycle Shifting From Tektro: Front Derailleur
Electronic front derailleurs are the subject of several patent filings from Tektro, including one that issued as a US patent in October 2021. There no ambiguity on wireless configuration here:  "In this embodiment, the circuit board 1102 has an antenna 1103. The antenna 1103 is configured to receive shift signals transmitted by the brake/shift lever."  It also details the battery being removable for changing or charging.
As every bicycle mechanic knows, front derailleur positioning is a fiddly and often frustrating adjustment. Tektro addresses this with an innovative mechanical feature: an adjustment screw that allows fine-tuning of the position of the front derailleur cage relative to the frame. " … activating component can force the adjustment component to press against the bicycle frame, such that the bicycle front derailleur can be pivoted with respect to the bicycle frame so as to slightly adjust the position of the bicycle front derailleur, thereby ensuring a smooth shifting of a bicycle chain among chainrings."
Shifters
Several patent filings describe other elements of electronic bicycle shifting from Tektro, such as combination brake-shift levers that include a battery, circuit board assembly, and antenna. In one version, those electronic shifter components are housed in a module that plugs into the end of the handlebars, with a wire running to the lever to receive signals from the shift switches. It's described as applicable to both road and flat-bar configurations, which would allow Tektro to make a single electronic unit that would work with both styles of levers. Shift switches are disclosed at different positions on both the side of the lever body and on the sides of paddle behind the brake lever blade.
Electronic Bicycle Shifting From Tektro: Controllers & More
Tektro has thought out plenty of electronic shifting details, such as a system for replacing e-shift components  that uses a phone ap to pair shifters to derailleurs with new ID codes. Another describes and claims a system for authorization pairing between electronic components  that includes anti-theft features. There's also a system for warning riders of low battery levels – both for derailleur/receiver batteries and for shifter/transmitter batteries.
Tektro has seen a surge in OE business recently, particularly for hydraulic brakes for ebikes. Industry sources tell BRAIN that Tektro was able to fill orders where Shimano and SRAM could not, due to pandemic-related supply issues at  the bigger companies. Those same supply chain problems make new product launches especially difficult right now, adding more mystery to what Tektro may have in the product pipeline.
This article first appeared in Bicycle Retailer and Industry News, print and website