A flurry of recent patent applications sheds more light on the long-burning question: is Campagnolo wireless shifting coming soon?
In February of 2021, I took a deep dive into Campy's patent filings to-date, looking at what they've disclosed and are trying to protect for wireless derailleurs and shift levers. That spanned about 10 patent filings, most as published in 2018 & 2019 – but in the two years since, not much else has surfaced in from the company.
Until now.
Five recently published (Feb, 2023) US patent applications from Campy all are directed to shift levers. And all of those include wireless technology. As shown in the patent drawing below, a cover (ref# 28, in pink) holds a coin-cell battery inside the lever. This provides power to a wireless communication module housed inside the lever. The wireless module includes an antenna, which has the option of being extended by a small coaxial cable inside the lever, to lessen the chances of a rider's hand blocking the wireless signal.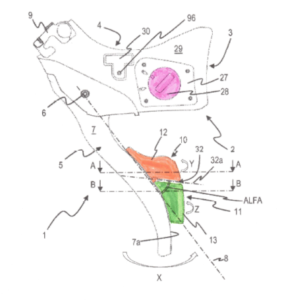 Campagnolo introduced its mechanical Ergopower brake/shift levers over 30 years ago, and they've stuck with a thumb lever on the inside of the hood for downshifts – even their decade-old EPS wired electronic shifting carried on with a thumb lever, more out of tradition than necessity. But the latest patent filings show two "control levers" on the inside of the brake lever blade. The upper lever (12, in orange) for upshifts, the lower (13, in green) for downshifts. But your thumbs shouldn't feel neglected, as two buttons (16 and 17, in yellow) on the inside of the lever body also provide shift capability. Again, upper for up shifts, lower for downshifts.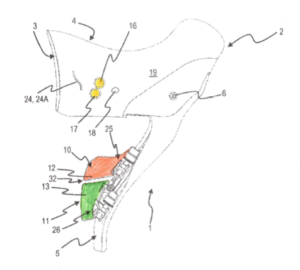 Perhaps one will remember that in a field sprint.
The levers described appear to be strictly hydraulic for brake actuation, with details of a hydraulic tank and related workings, but no inclusion of alternate embodiments with a traditional Bowden-type cable. Which is as expected of course.
As mentioned, Campagnolo had earlier patent applications that included assorted versions of wireless front and rear derailleurs, as well as shifters – the latter even integrated into a wearable finger pod. But this round of patent applications shows that Campagnolo wireless shifting is very much an active R&D pursuit. And please remember, the drawings seen in patent applications need to support the claims of the invention, but a finished product may look quite different.
Patents aside, there's reason to believe that Campagnolo wireless shifting won't be hitting the marketplace in the immediate future, in the US at least. That's because such wireless products require approval by the FCC. At the time of this post, the FCC shows no applications filed by Campagnolo.
Shimano went semi-wireless (no shift lever wires) with their latest generation of components — which I uncovered from patent filings months  ahead of the product launch. and SRAM carries on with their fully-wireless etap system. Then there's Classified – an entirely different approach to shifting, with their wirelessly controlled, two-speed internally gear hub. So is Campagnolo wireless shifting coming soon? I'll continue monitoring patent applications, so keep checking back here for the latest.